Privacy Policy (link top and bottom of page) Imprint (link bottom left) Contact (link bottom left)


Quick guide to this site and explanation.

MY WONDERFUL WEST BERLIN

Feature documentary in final stage of postproduction



Original title:

MEIN WUNDERBARES WEST-BERLIN / Documentary, 97 minutes, Color and B&W, 16:9, Stereo 5.1

Detailled information at www.my-wonderful-west-berlin.de.

Today's hip image of Berlin is based on the city's vibrant and subversive subcultures, which originally emerged within the grey walls surrounding West Berlin. The queer scene played a major role in creating that subculture, with its sexual diversity and its wild and unconstrained party culture, ranging from the notorious clubs to CSD. Many of the scene's actors, such as the Gay Museum, the Teddy Award, AIDS help organizations, and the queer magazine Siegessäule originated before 1989.
Yet gays in West Berlin suffered greatly under an incongruous provision in German law - the infamous 'Paragraph 175' - that made homosexual acts between men a crime up until its reform in 1969. Raids and arrests in bars were common, yet ultimately failed in suppressing gay life in West Berlin. Instead, the city turned into a gay capital. The late seventies in particular were a period of great sexual and political freedoms and more intense social intermingling between the gay-, hetero-, and transsexual worlds. Then AIDS struck, wrecking greater havoc in Berlin than in any other German city.
After OUT IN EAST BERLIN (2013), MY WONDERFUL WEST BERLIN describes gay life in the western half of the city in the dynamic period between the end of WWII and the fall of the Berlin Wall, all the while referencing current social issues. The stories and experiences of political activists, party-goers, hedonists, club owners, musicians, fashion designers, a DJ, and a make-up artist paint a vivid picture of the gay scene in that period. The use of never before seen archival film footage completes the picture by allowing viewers to travel through time to a hitherto unknown West Berlin.
MY WONDERFUL WEST BERLIN explores the historic roots of the fascinating city, that is a dream destination and a place of refuge for gay men form across the world to this day. The film is the second part of filmmaker Jochen Hick's Berlin trilogy, the final part of which will focus on the period after the fall of the Wall, up until today.



Supported by

Medienboard Berlin-Brandenburg, Filmförderung Hamburg Schleswig-Holstein, MFG Filmföderung Baden-Württemberg und Deutscher Filmförderfonds



German theatrical release by

Salzgeber Medien



THE GDR COMPLEX Feature documentary.


Theatrical start in Berlin Nov 10, 2016, all over Germany from Jan 19, 2017!


World premiere at Berlin International Film Festival / Berlinale 2016 (Panorama section).


Detailled information at www.the-gdr-complex.de.



Original title: DER OST-KOMPLEX / Documentary, 90 minutes, Color and B&W, 16:9, Stereo 5.1



Screenings @ 66. Berlinale / Panorama (2016)


Sa 13.02. 17:00 Kino International (E) (Premiere)
So 14.02. 14:30 CineStar 7 (E)
Mo 15.02. 16:00 Colosseum 1 (E)
Fr 19.02. 17:00 CineStar 7 (E)



THE GDR COMPLEX on

Facebook

!





Press contact Berlinale:

Andreas Strohfeldt

as@galeria-alaska.de

Festival requests:

festival@galeria-alaska.de



Synopsis:



Being gay, young and conservative, Mario Roellig is one of the most in-demand witnesses to the atrocities committed by the GDR (former German Democratic Republic). He guides groups through today's memorial site in the former Stasi (state security) prison where he was once incarcerated. Roellig confronts GDR aficionados and is also confronted by people who still believe in social utopias and who also talk about freedom (without ever mentioning the GDR).
The film unveils a strange atmosphere of misunderstandings and failures to communicate. Mario still awaits an apology from his tormentors while simultaneously being ridiculed by some hardliners.
More than 25 years after the Fall of the Berlin Wall the process of coming to terms with the past has just begun.



Techs, cast & team:



Funded by Filmförderung Hamburg Schleswig-Holstein. Coproduced by Rundfunk Berlin-Brandenburg.

Additional information soon on www.the-gdr-complex.de and here on our portfolio page.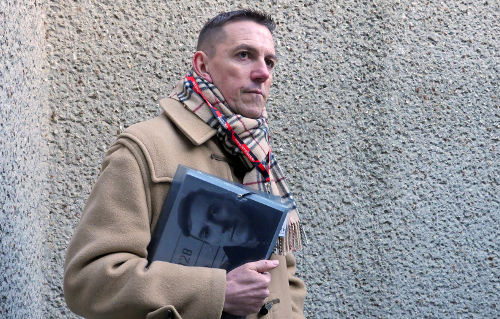 Main protagonist: Mario Röllig

Author, director, producer: Jochen Hick
Co-worker, research, boom operaator, assistant director: Andreas Strohfeldt
Editor: Thomas Keller
Re-recording mixer: Mathias Ludwig
5.1 surround mixer: Michael Kaczmarek
Camera: Jochen Hick & Nicolai Zörn (rbb)
Assistant camera: Timo Kahlenberg (rbb), Jeanine Strehle
Consultant: Karin Wallenczus
Production managers: Hermann Hick & Ursula Scheid
Production managers rbb: Rainer Baumert, Bärbel Kreimes-Lück
Commissioning editor: Rolf Bergmann (rbb)



OUT IN EAST-BERLIN North American distribution with Nancy Fishman Releasing

News article: Nancy Fishman picks up OUT IN EAST BERLIN. Contact and festival information: nancy@fishmanfilm.com

Our new doc OUT IN EAST BERLIN at Berlinale 2013 (Panorama). Theatrical start in Germany 31 October 2013.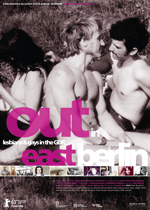 Our new feature length doc with spectacular archival materials, exciting stories and interesting protagonists is shown at the Berlinale 2013. For more information in English pls. click here. For press reviews (English & German) pls. click here.
Link to Trailer English.
Press contact during Berlinale: press@galeria-alaska.de Andreas Strohfeldt.
For Berlinale catalogue page click here.
Link to review in The Hollywood Reporter
All of our documentaries now out on DVD in English or with English subtitles.
Please check them out on our order page. For shipments from and within Germany pls. check the German order page with a wider range of films and products. Please note, that we do not deliver titles into countries, where they have already been released on DVD by local distributors. You will find a list of those local distributors on our distribution pages.
EAST/WEST - Sex & Politics at FFGLP Festival in Paris in November 2010.
Interview with Jochen Hick in the February 2009 edition of EX-BERLINER, Berlins English sepaking magazine as PDF or as only text version.
THE GOOD AMERICAN premieres at Berlin Film Fest and many other festivals (@ SZIGET Budapest in August 2010).







For more information about the film please click here!

For the english press booklet as PDF in English pls. click here. Press contact: press@galeria-alaska.de.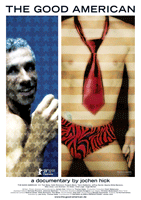 EAST/WEST - Sex & Politics Jochen Hicks documentary about the political fight and situation of Moscows "sexual minority" at festivals abroad.
For further information please click here.
RAINBOW'S END the new version still showing on festivals worldwide. Out in Europe on DVD. Released in the U.S. by Frameline, San Francisco.







More information here. With the advent of same sex marriage, homosexuals have achieved near-equality in much of Europe. Everything is rosy, so why should they keep on fighting? A revealing and exciting journey from the center to the borders of Europe.
The recently accomplished documentary contains exclusive stories, portraits, interviews and footage of various events in Geneva (United Nations), Poland, London, Windsor, Amsterdam, Kiev, Minsk, Egypt and Lebanon. It also features an exclusive interview with the Gay mayor of Berlin, Klaus Wowereit.

Original Flyer for EFM: Front Back

Techs: a documentary by Jochen Hick & Christian Jentzsch - photography: Jochen Hick edited by Jörn Hartmann - produced by GALERIA ALASKA PRODUCTIONS/Jochen Hick - coproduction: ZDF in cooperation with ARTE (Claus Josten) - durations: 75' (festival, video, theatrical), 63' & 58' (tv) commentary - versions: English, German - ratio: 1:1,33 - subtitles available: English, German, French, Spanisch, Portuguese, additional language versions on request. More detailled information at our PORTFOLIO area.

For United States bookings, festivals requests and educational distribution pls. contact Maura King at FRAMELINE DISTRIBUTION: www.frameline.org.

HALLELUJAH! Short about the Pope's visit in Cologne on many international Filmfestivals!

HALLELUJAH! (Documentary, Germany 2006, 6 Minutes, written by J. Hick & Karin Wallenczus, directed, filmed and produced by: Jochen Hick, editor: Jörn Hartmann).

World Youth Day, Cologne, 2005: The Pope is on his way in the Papamobile, but there are still three hours to kill. Enough time to sing and praise the Lord. A few gays and lesbians have come by too, with their own songs.

"A wonderful and comical snapshot." Bernd Sobolla in Deutschlandradio Kultur

"The Berlin short film festival offers the rare opportunity to watch a great film of Jochen Hick. In "Hallelujah" Hick documents the frenetically awaited Pope's visit un Cologne from an interetsting perspective. Long before the Papamobil arrives, Christian youth and homosexual counter demonstrators collide (...)" Siegessäule Berlin 11/06

Festivals (not complete): Kurzfilmtage Oberhausen (Wettbewerb), Clermont-Ferrand, San Francisco G&L, ExGround Wiesbaden, Dokumentarfest Kassel, Shadow Festival Amsterdam, Filmfest Lünen, Barcelona G&LFF and many more.

CYCLES OF PORN - Sex/Life in L.A. Part 2 now out on DVD in Europe and the U.S..

CYCLES OF PORN at 55th Berlin International Film Festival.
Festival and press contact: juttaplatte@galeria-alaska.de. Link to Berlinale film archive sheet (external link). Some press excerpts as PDF-File or all on press page. US distribution with TLA Releasing www.tlavideo.com. US DVD start expected for 2006. Theatrical start in Germany www.cyclesofporn.de!

"MOVIEGOERS PRAISE GAY ADULT DOCUMENTARY -'Cycles of Porn – Sex/Life in L.A., Part 2' opened the Panorama section of the Berlin Film Festival this week to rave reviews. Feb 11, 2005, Peter O'Conner in X-BIZ

"BERLIN CHEERS DOCUMENTARY ON GAY PORN FILMS - A documentary about the lives of aging porn actors that throws a harrowing spotlight on the gay film industry in Los Angeles opened the Panorama section of the Berlin Film Festival Friday to an enthusiatic reception. One of many films at this year's Berlinale examining sex and pornography, "Cycles of Porn -- Sex/Life in L.A. Part 2" by German filmmaker Jochen Hick takes its audience on a riveting journey into the world of low-budget sex films." Feb 11, 2005, Erik Kirschbaum in REUTERS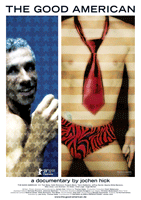 TALK STRAIGHT - The World Of Rural Queers
TALK STRAIGHT - The World Of Rural Queers on many film festivals worldwide. Theatrically released and shown on tv in Germany. It is now available on DVD in German (German Version).
The L.A. premiere of TALK STRAIGHT became #4 pick of all cultural events of the week for the Greater Los Angeles area in the online edition of the Calendar Weekly (Los Angeles Times). Please see also "Screening Room" column in the printed edition of Los Angeles Times of June 17 and Variety Review of January 2004.
"Not to be missed Jochen Hicks smart, funny, moving documentary TALK STRAIGHT - The World Of Rural Queers, in which Jochen Hick leaves the queer heaven of Berlin to the Swabian countryside to explore, what is is to be a provincial gay man." LA WEEKLY June 2004







Stills from TALK STRAIGHT - The World of Rural Queers
"Impossibly optimistic, outrageously clever and camp as concentration will allow."
Jerry Springer, MCV Arts, Melbourne
Clicke here for more press quotes!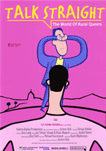 Teddy Award 2003 for Best Doucmentary for TALK STRAIGHT - The World of Rural Queers. That's what the jury said. So far more than 60 festival inivitations around the world. Theatrical start in Germany on December 25, 2003 on five screens in Berlin. General start in Germany in February. Poster by Artworker/Gerd Huss (German poster on index site)
Quick guide to this site
If you are interested in our production services or if you are looking for a line- or co-producer, please check our services at ABOUT US. There you will find as well a (downloadable) profile of our company.

PORTFOLIO will show some of the films and projects we´ve realized through today. Details about current projects (in development / production / post production) are listed under COMING UP. In the DOWNLOAD - area you will find press releases, text and audio documents and printable stills, which can be saved on your hard disk.

If you are interested in buying a video, renting a film print for theatrical release or licensing some of your products for national or international markets, please check the DISTRIBUTION - area.

In any event, we are glad to see you here. Looking forward to your feedback we will be happy to answer any questions you might have at: mail@galeria-alaska.de



Talk Straight - The World of Rural Queers - No One Sleeps - Sex/Life in L.A. - Menmaniacs (The Legacy of Leather) - Via Appia - Höchste Eisenbahn - Airport Frankfurt - Wohnen in Berlin - Gerd Hansen, 55 - Willkommen im Dom - Hohe Absätze wirken Wunder - Veronika und der Briefträger - Wie entsteht ein Wolpertinger - Mond über Pittsburgh - Outing (Der heisse Stuhl) - Rekrutenausbildung in der Bundeswehr - Spiegel TV Reportage - Teufel im Paradies - Allein unter Heteros - Das falsche Loch - Ich kenn keinen - Straight Talk - The World of Rural Queers - EAST/WEST Sex & Politics - THE GOOD AMERICAN - Out in East-Berlin - Lesbians & Gays in the GDR - DDR unterm Regenbogen - Out in Ost-Berlin - Lesben und Schwule in der DDR